This article will walk you through how to set up and activate GigSky's mobile data service on your Apple iPad.
Before you start, make sure that you have the following:
An eSIM-capable iPad, unlocked, and running the latest version of iPadOS.
The GigSky app, version 7.6 or later
A stable Wi-Fi connection.
Installing the GigSky App:
Download and install the GigSky app from the Apple App Store.
When prompted, allow the app to use location services, and enable notifications, so that the app will receive important updates about your data plan.
Use the app to purchase a data plan
Open the app.
Search for the country you would like to purchase a data plan for.
Select a data plan from the ones displayed.
If you are not already a GigSky customer, you will need to create an account.

If you already have an account, tap "Log In" at the bottom of the screen and enter your account credentials.
Add a payment method.
Tap

Buy Plan

to purchase the data plan.
Follow the instructions on the next few screens to download and install the eSIM. If you are prompted to deactivate an eSIM, select an eSIM to be turned off so that your new eSIM can be activated. Depending on your device, you may only be able to have one or two eSIMs on at any time.
Configure your iPad to use the data plan
Check that your iPad's settings are configured to ensure that your GigSky data service will work correctly. The following screens show settings screens for an iPad set to use US English. The setting names and labels may differ for different locale settings: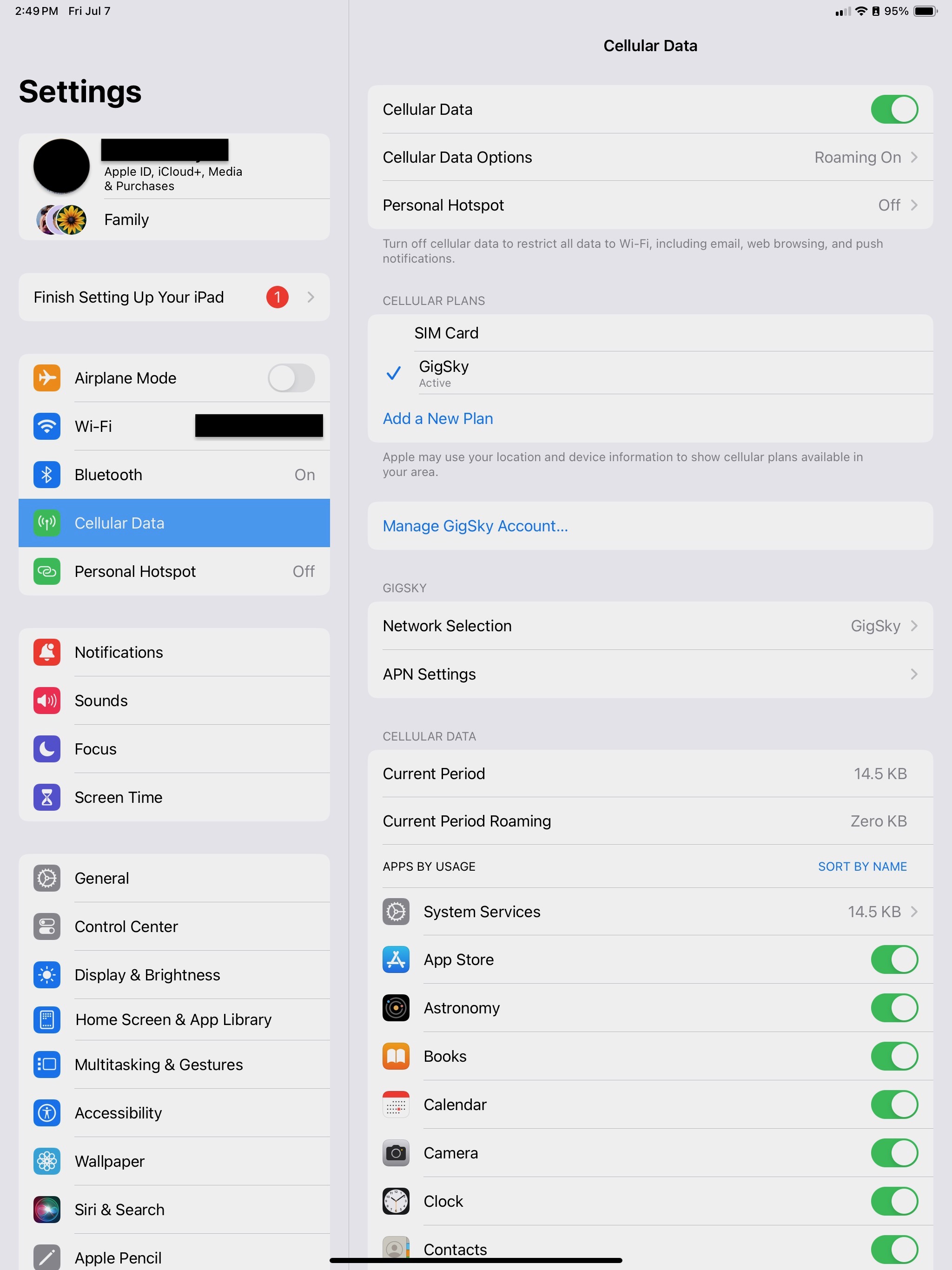 By default, the settings should be correct.

Go to Settings > Cellular Data and tap "GigSky" under the CELLULAR PLANS heading.

Cellular Data Options is set to Roaming On.
APN Settings are set to gigsky.
Cellular Data might be turned on. Turn it off until you want to use your plan.

Now turn off mobile data for any apps you don't need it for:

Go to Settings > Cellular Data.

On the right, you'll see a section headed CELLULAR DATA in which you'll find

a list of apps with switch toggles next to them.

Switch off the apps you don't want to use mobile data.

Also, to stop your iPad using mobile data when wi-fi is poor or for iCloud-related tasks, scroll all the way to the bottom and turn off:

Wi-Fi Assist

iCloud Drive

iCloud Backup
You're now ready to use your GigSky mobile data plan.
**** NOTE: NEVER DELETE YOUR ESIM WITHOUT CONTACTING GIGSKY SUPPORT ****
For further Apple support on eSIM, you can visit the Apple eSIM support page here.
If you have any further questions, please contact GigSky Support at support@gigsky.com