Apple iPhones from the XS onwards have dual SIM capability, either dual eSIM, one eSIM and one nano-SIM card, or two nano-SIM cards (eSIM on iPhone is not offered in China mainland). An eSIM is a digital SIM that allows you to use a cellular plan from your carrier without having to use a physical nano-SIM.
What you need
A carrier-unlocked iPhone XS, iPhone XS Max, iPhone XR, or later, with iOS 12.1 or later. We recommend installing the latest version of iOS.

The GigSky app

V5.0 or later.

A strong WiFi connection.
Install the GigSky App
Go to the App Store and download the GigSky app.

Select Allow to let the GigSky app use your location services.

Select Allow to let the GigSky app send notifications (this is required to send you information when your data plan is running low).
Use the app to purchase a cellular plan.
Open the app.
Search for the country you would like to purchase a data plan for.
Select a data plan from the ones displayed.
If you are not already a GigSky customer, you will need to create an account.

If you already have an account, tap "Log In" at the bottom of the screen and enter your account credentials.
Add a payment method.
Tap

Buy Plan

to purchase the data plan.
Follow the instructions on the next few screens to download and install the eSIM. If you are prompted to deactivate an eSIM, select an eSIM to be turned off so that your new eSIM can be activated. Depending on your device, you can have only one or two eSIMs on at any time.
Make a note of the label of the second SIM in these screens. This is the name that your new GigSky eSIM has been given.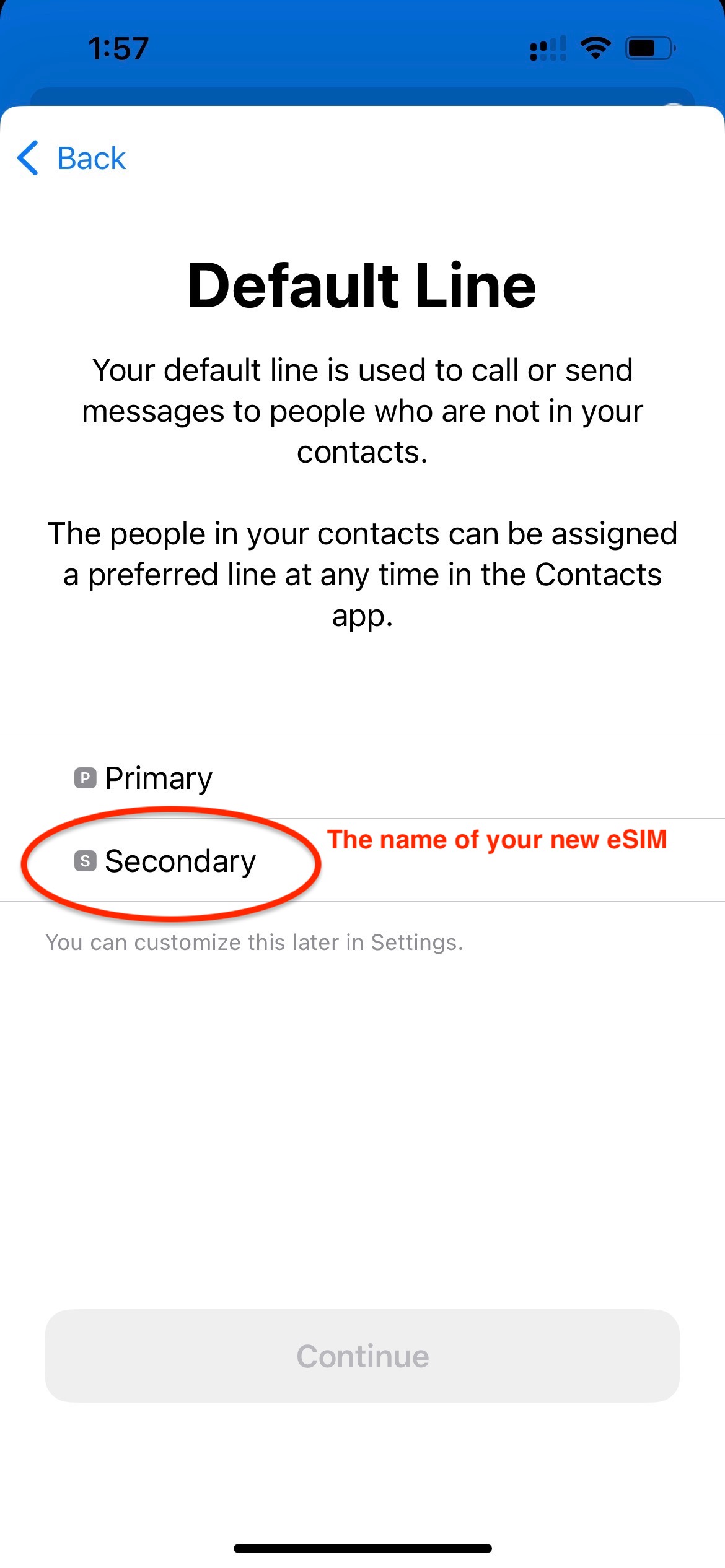 For Default Line

and

iMessage & FaceTime, select Primary. You'll still be able to use GigSky data for iMessage and FaceTime, but this keeps your home cellphone number associated with those services.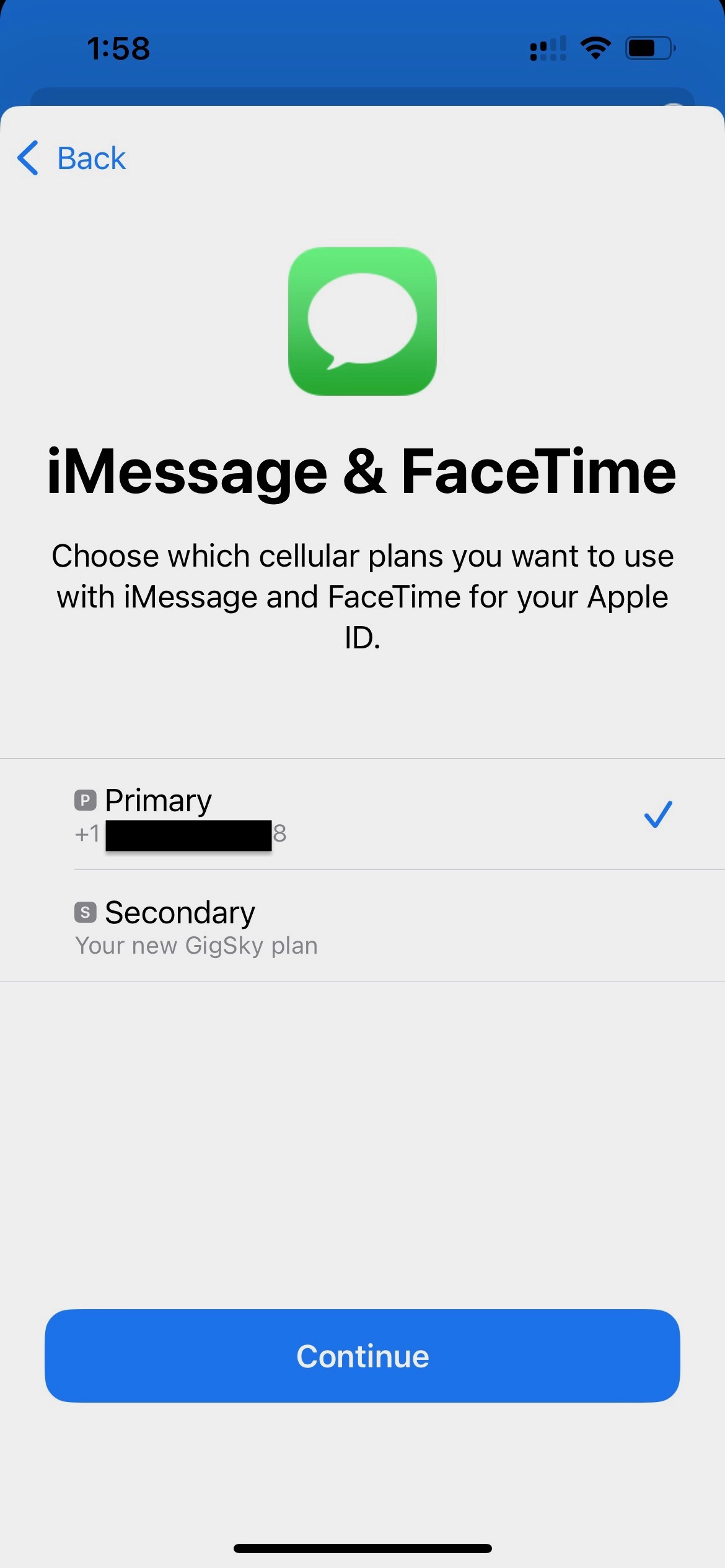 For Cellular Data, select Primary if you're still at home before traveling, or the label of your new eSIM if you're at your destination and want to start using GigSky data. Keep

Allow Cellular Data Switching

turned off so that you don't accidentally start using your Primary data when traveling.
Now, configure the iPhone settings to ensure that your GigSky data service is working correctly:
Change the label of your new eSIM to make it easy to identify.

Go to

Settings > Cellular

and tap your new eSIM.
Tap

Cellular Plan Label

at the top of the screen.
Tap the

Custom Label

field and type in a label for your new eSIM. We suggest using "GigSky".

If your new eSIM is not already turned on, do that now:

Go to

Settings > Cellular

and tap your new eSIM.
Toggle

Turn On This Line

to turn the eSIM on.

Select your new eSIM to be used for mobile data.

Go to

Settings > Cellular

and tap

Cellular Data.
You should be able to see an entry with the label you created earlier. Tap that entry to select your new eSIM.
Make sure that

Allow Cellular Data Switching

is turned off. This will stop your device accidentally using your primary carrier's roaming data if the GigSky service is not available for some reason.

IMPORTANT: Now turn off mobile data for any apps you don't need it for:

Go to

Settings > Cellular.
Scroll down until you see a list of apps with switch toggles next to them.
Switch off the apps you don't want to use mobile data.
Scroll all the way to the bottom and turn off:

Wi-Fi Assist
iCloud Drive
iCloud Backup
You're now ready to use your GigSky mobile data plan.
**** NOTE: NEVER DELETE YOUR ESIM WITHOUT CONTACTING GIGSKY SUPPORT ****
For further Apple support on eSIM, you can visit the Apple eSIM support page here.